Your final trip plan will be 100% tailored to your needs, incl. itinerary, activities, hotel, meal plan etc.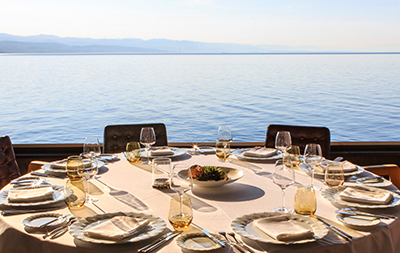 Croatia cuisine include all local customs related to food and it is unique combination of different elements depending on the region. The best advice to simply enjoy the taste, richness, original of the culinary mosaic. In Zagreb dishes are a great example of harmony between the city and the village and only couple of hours away from Zagreb, on the Adriatic Coast is extensive selection of seafood. Historical destiny and position on the intersection of great empires take credit for what Croatia cuisine offers on its menus today. In Croatia's cuisine many influences are blended: Austrian, Hungarian, Czech, Mediterranean (mostly Italian), French, Balkan and Turkish.
For ages known for its value, both in gastronomy and in alternative medicine, olive oil is one of the important products of our country. Olive oil is produced in Istria, in the Kvarner area and in Dalmatia.
We guarantee you in our offer only restaurants that are halal certified approved by Center for Halal Quality Certification in Croatia.
If you are seeking new flavor, organic food, natural ingredients artisan products, the best way to meet Croatia is taste and enjoy different gastronomy offer.