Your final trip plan will be 100% tailored to your needs, incl. itinerary, activities, hotel, meal plan etc.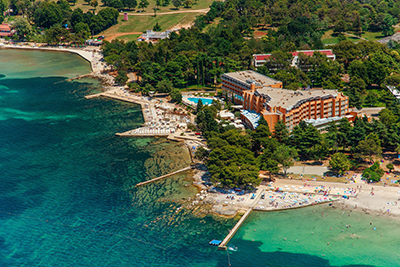 Umag's rise as a popular tourist destination in Croatia should come as no surprise. The scenic Istrian city along the Adriatic Coast holds unmatched beauty and distinction.
Due to its location in northwest Croatia, Umag is considered the gateway to Istria from northern Europe. Upon arriving in the city, you notice its splendour immediately. The sight of lush landscape is endless and the scent of the Adriatic Sea is in the air. Instantly, you know you are in a special place.
With a coastline filled with stunning beaches, Umag has solidified itself as an established summer destination in Europe. But the sea is only one of the reasons Umag stands out as an exceptional vacation site.
Umag is a city full of endless entertainment possibilities. Exciting events such as the ATP Vegeta Croatia Open, held each summer at the stadium at Istraturist's Stella Maris resort, have pushed Umag to the forefront of Croatian tourism.
Beautiful architecture, delicious restaurants and unrivalled scenery add to the city's undeniable charm. Umag's growth over the years is evident as it is now a major tourist destination in Istria. Come to Umag today and see why.