Your final trip plan will be 100% tailored to your needs, incl. itinerary, activities, hotel, meal plan etc.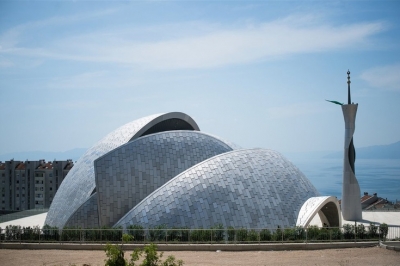 ISLAMIC CENTER RIJEKA
A MASTERPIECE OF CONTEMPORARY ARCHITECTURE
1968 - Muslims of Rijeka and Croatia first suggested to build a Mosque and Islamic Center in Rijeka.
The most interesting fact is that the design was not defined by architects, but by one of the most prominent Croatian sculptor, Dušan Džamonja (1928 - 2009). He created a miniature model of the Mosque, reflecting his well-known abstract sculptures. Later, the architects Darko VlahoviÊ and Branko VuËinoviÊ have undertaken the task to implement this conceptual idea in order to achieve the superior aesthetics of the project. When creating the design of the dome, Dušan Džamonja probably had in mind the rich tradition of dome construction of Ottoman Mosques on the shores of the Mediterranean.
2009 - The cornerstone for the Islamic Center in Rijeka was laid on October 3rd.
Qatar's Emir Sheikh Hamad bin Khalifa al-Thani is the biggest donator to the institution.
2013 - May 4th, the new Islamic Center and Mosque in the city of Rijeka was opened - the first Mosque built on the shores of the Adriatic in more than five centuries. The Mosque is one of the most beautiful religious buildings in Europe.
Between 20,000 and 30,000 Muslims and guests from all over the world attended the celebrations marking the opening of the Mosque in Rijeka.
The new Islamic Center and Mosque, with a 23 metre-high minaret, was opened by the Croatian President, Ivo Josipovic, the Bosniak member of Bosnia's tripartite state presidency, Bakir Izetbegovic and Qatar's Minister of Endowments and Islamic Affairs, Bin Mubarek Al Kuwari, who represented the Emir. Opening the center, President Josipovic said that the Islamic faith and tradition form "part of Croatian history and, together with other minority traditions, enrich Croatian cultural identity".
The speaker of the Croatian parliament, Josip Leko, the religious leader of Muslims in Bosnia and Herzegovina, reis-ul-ulema Husein ef. Kavazovic, the religious leader of Muslims in Croatia Mufti dr. Aziz ef. Hasanovic and the president of the EU delegation in Croatia, Paul Vandoren also spoke, emphasising the importance of the Rijeka Islamic Center for multiculturalism, tolerance and mutual understanding in Croatia and the region.
The Rijeka Islamic Center covers more than 10,000 square metres. The complex consists of a Mosque, a multipurpose hall, a teaching room, kindergarden, library and other offices, dining room, guest house, classrooms for young people, cafeteria, basketball court, and parking lot.
More than 10,000 Muslims, mostly from Bosnia and Herzegovina, live in Rijeka and the surrounding area. The Mosque is the result of decades-old aspirations of Muslims in Rijeka to have an adequate religious space.